Mekong Delta (Part 3)
[ Back to Mekong Delta (Part 2) | Table of Contents | On to Tay Ninh ]



Fishing in the rice paddies -- he's using a battery pack attached to two long poles,
to zap the fish with metal prongs.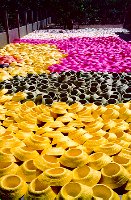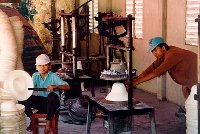 One of the girls in our tour group tries her hand at making incense -- a valiant effort,
but I think the 14-year old girls that do it all day long are a little better at it.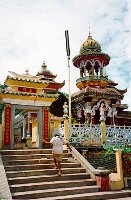 After heating a steel casing filled with dried corn, this boy then slams open the latch,
and... instant popcorn! (with a huge bang!)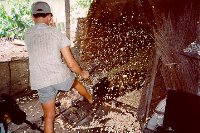 Our fantastic guide, Phu -- if you see him at Kim's Cafe in HCMC, ask him if he
received this photo from me in the mail.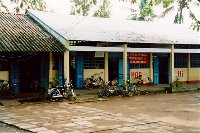 The snake market -- complete with young kids holding some of the most incredibly
lethal snakes in all the world. Fortunately, it didn't seem to be for our benefit, as he
was showing it to a potential customer.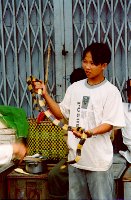 Hanging snake livers to dry, snake wine, and raw snake meat, all for sale.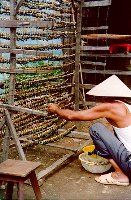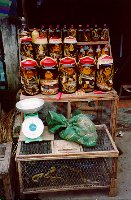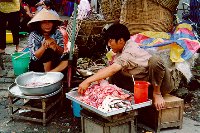 [ Back to Mekong Delta (Part 2) | Table of Contents | On to Tay Ninh ]
Comments are appreciated! Please visit the feedback page.