Tay Ninh and the Main Caodai Temple
[ Back to Mekong Delta (Part 3) | Table of Contents | On to Cu Chi Tunnels ]
Our visit to the main Caodai temple in Tay Ninh was part of a one-day tour
with Kim's Cafe in HCMC that also included the nearby Cu Chi Tunnels
(next page). The Caodai religion (Caodaism) is a mix of religious beliefs from the
West and the East, including aspects of Buddhism, Confucianism, Taoism,
Vietnamese spiritism, Christianity, and Islam. The Caodai temples are easy to spot
because of the bright colors, both outside and inside. We arrived just before the
mid-day service and were allowed to watch from the balcony.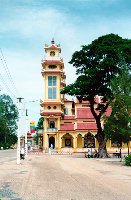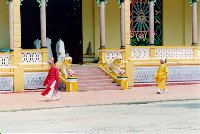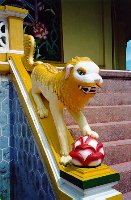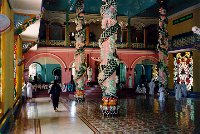 The priests wear different color robes according to their religion,
and kneel in the main pathway of the temple. A small orchestra playing traditional
instruments performs at the back of the balcony during the service.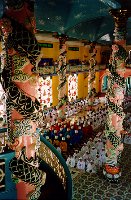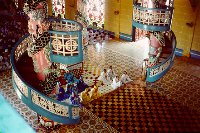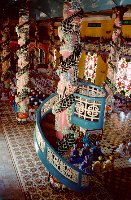 [ Back to Mekong Delta (Part 3) | Table of Contents | On to Cu Chi Tunnels ]
Comments are appreciated! Please visit the feedback page.