Hue
[ Back to Hai Van Pass | Table of Contents | On to Hanoi ] Hue was the capital of Vietnam until 1945, and is still a great place to see a lot of
the country's history. Boats are a common sight along the Perfume River, which runs
through the center of the city. Some of the most interesting parts of Hue are within
the Citadel, a small city-within-a-city, the moats and walls of which contain the
Imperial Enclosure, which in turn contains what's left of the small Forbidden Purple City.
We also did a half-day boat tour which included one of the many tombs of the
Nguyen Dynasty, and the Hon Chen Temple.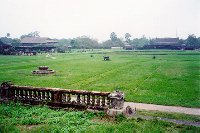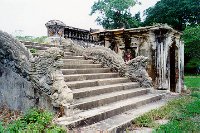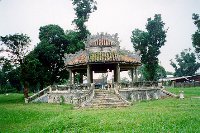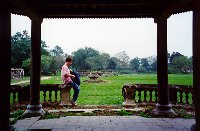 Hon Chen Temple. Well, the temple itself wasn't that memorable, except for this
small statue that scared the heck out of me as I turned the corner.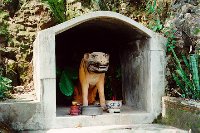 Tu Duc's Tomb. A huge compound with several buildings, houses, and courtyards.
The tomb was finished in 1867, and was used by the emporer before his death as
well as after. He lead an incredible life, every meal prepared by 50 chefs creating
50 dishes which were served by 50 servants. Plus he had 104 wives, not to mention
all of his concubines.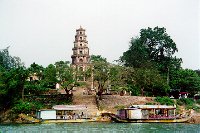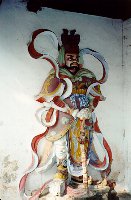 [ Back to Hai Van Pass | Table of Contents | On to Hanoi ]
Comments are appreciated! Please visit the feedback page.