Hai Van Pass
[ Back to Hoi An | Table of Contents | On to Hue ]
We hired a car and driver for the trip from Danang to Hue, because of the great
scenery while crossing the mountains through the Hai Van Pass. It was pretty wet
the day we went, but even with the limited visibility there were plenty of bright
green views along the way. Our luxurious chariot was very similar to the old 4-cylinder
Ramblers of the 60's, and even forced us to stop for a few minutes to let the engine
cool down because of all the steep hills.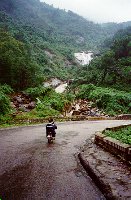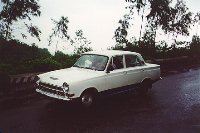 We also stopped at one of the beaches along the way, where Kathey met an
interesting young kid selling souvenirs -- I couldn't resist taking a picture while laughing
hysterically at the sight of her saying "no thank you" about six hundred times, and
still not getting the message across that she didn't want to buy anything.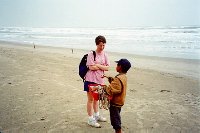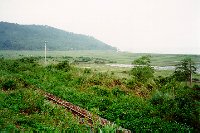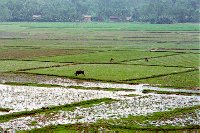 [ Back to Hoi An | Table of Contents | On to Hue ]
Comments are appreciated! Please visit the feedback page.