Hoi An
[ Back to Danang | Table of Contents | On to Hai Van Pass ]
One particular day in Danang started especially bad. Problems at the hotel,
problems at the restaurant around the corner, and problems with the driver that
was going to take us to Hoi An, a few miles south of Danang on the coast. I had
just about decided that coming to Danang was just a big mistake altogether. Within
an hour, we were walking the streets of Hoi An, my camera shooting madly at
everything in sight, and my face with a huge grin.
Wow, what a change from that morning! And it kept getting better. By lunch we'd
visited the incredible Fujian Assembly Hall, and were enjoying the best meal we'd
had yet at the wonderful Cafe des Amis. By early afternoon, we were touring a
beautiful historic home, and walking across the Japanese Covered Bridge.
Assembly Hall of the Fujian Chinese Congregation. Talk about a place to use up
a lot of film! The meeting hall was eventually changed to a temple for Thien Hau,
the Goddess of the Sea and Protector of Fishermen and Sailors. Small carvings
everywhere, and a peaceful place to just sit and relax -- a rare treat.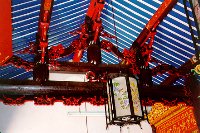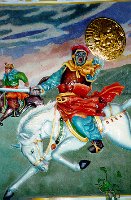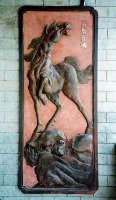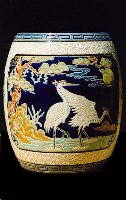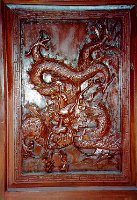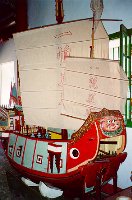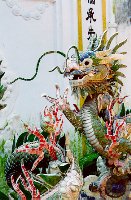 Cafe des Amis. What a great place to have lunch! You sit down in what looks like
a rather uninteresting little French cafe, and the owner (or his young son) starts
bringing out the most delicious food you've ever eaten. No menus, no choices, you
just let them take care of everything, and stare in amazement at all the incredible food
that just keeps arriving at your table. Completely atypical of Vietnam, completely typical of Hoi An.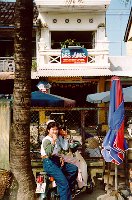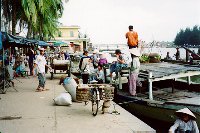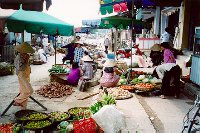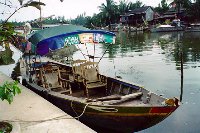 Japanese Covered Bridge. Originally built in 1593, and later rebuilt in 1986.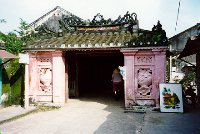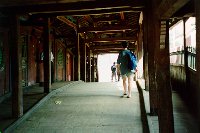 There are several beautiful old homes in Hoi An open to the public. We toured the
Tan Ky House, and were amazed at all the incredible architectural designs in such
a relatively small house. This hanging artwork contains a Chinese poem created
with inlaid mother-of-pearl. But look closely, and you'll see that each character is
made up of several intricately-carved birds.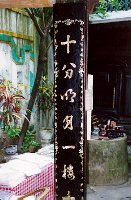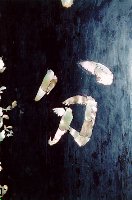 [ Back to Danang | Table of Contents | On to Hai Van Pass ]
Comments are appreciated! Please visit the feedback page.