Hanoi
[ Back to Hue | Table of Contents ]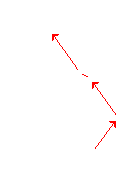 We flew north from Hue to Hanoi, and quickly discovered how different Hanoi
feels from many of the southern cities. I felt a lot of French influence here. There was
also a bit less English spoken, and the temperatures were much cooler -- we usually
wore light jackets in Hanoi, as opposed to the shorts and t-shirts we wore in HCMC.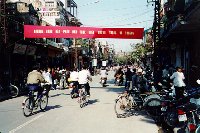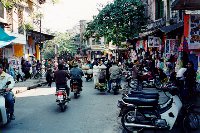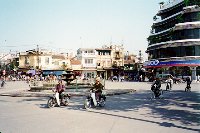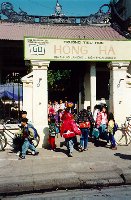 The kids of Vietnam, always smiling -- notice the hat the boy on the right is wearing. :-)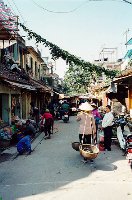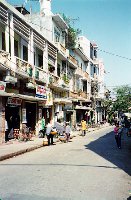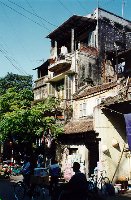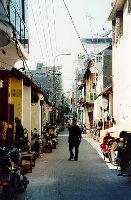 Ho Chi Minh's mausoleum is open to the public. After assembling in a group with
other visitors, you're escorted by a soldier down the middle of a blocked-off street
to the mausoleum entrance. You then walk up the red-carpeted (vinyl, really) steps,
and through the hallways which are lined with guards spaced every 10 feet or so,
each standing at attention and carrying a rifle with a bayonet attached. Finally you
come to a small dark room with a glass case containing the actual body of
Ho Chi Minh, elegantly laid out with his white hair neatly brushed. The mausoleum
is usually closed in September and October, when Ho Chi Minh's body is sent to
Russia for "maintenance". Kinda spooky, actually.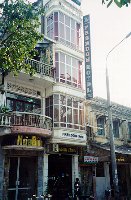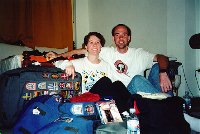 The Ho Chi Minh Museum, where the life and times of Ho Chi Minh are traced with
displays sure to be interesting.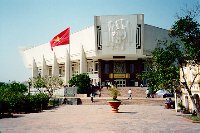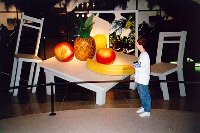 Some of the more interesting displays include this 1958 Ford Edsel crashing
through the wall (Lonely Planet says museum guides explain this as "an American
commercial failure to symbolise America's military failure"), and a scene from the
war in the 60's which includes this sign that says, "The image of crimes commited by
imperialist aggressors in the their war of destruction against the north Vietnam."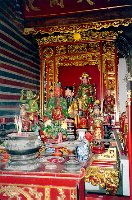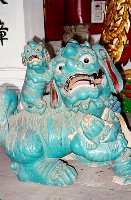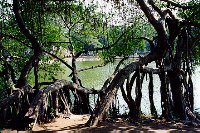 One Pillar Pagoda, near HCM's mausoleum. Originally built in 1049, and later rebuilt
after being destroyed by the French in 1954.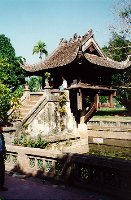 St. Joseph Cathedral, the front of which is always busy with kids after school lets out.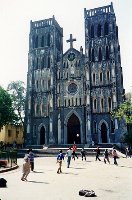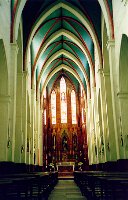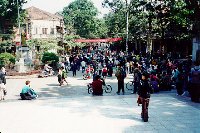 And there you have it. Three wonderful weeks in Vietnam.
I hope you get to go some day too, and see what a great place it is.
Thanks for visiting the album -- I'd love to hear what you thought of it!
Please feel free to leave your comments at the feedback page.
[ Back to Hue | Table of Contents ]