November
Sat. Nov. 2: Brisbane. Flew in last night--arrived at 11pm. There was a rep. from a new hostel, so we went with them--a good (free) way to get from the airport or train station to the city. Staying at "Homestead Traveler's Hostel" in New Farm--a suburb of Brisbane. $12 (US$9.50) each for a dorm with 8 beds, but not full. It's cooler here than in Cairns, which is nice. High temp. is about 80 degrees F (27 degrees C) instead of 90 (32) in Cairns. Went to "Lone Pine Sanctuary"--took the city bus. It's a "zoo" for koalas, kangaroos, and exotic birds. Cost $10. One of the best things we've done! They have 100 koalas. Got to pet one--their fur is not as soft as I thought--more wiry, like dense wool. They sleep 18 hrs. (not continuous) per day, but not because the leaves "drug" them, but because the leaves are almost all water, and they can't get much energy since that's all they eat. This also allows them to almost never have to drink. There's also a great kangaroo area--a huge fenced area that you walk into and feed the kangaroos food pellets right out of your hand! A lot of them too! Very tame--you can feed and pet them just like a dog. What a great place!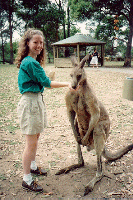 Also went to "Sciencenter"--a hands-on science learning place in the city--$4. Very good also. Lots of physics-type exhibits to play (and learn) with. Brisbane is a pretty ugly city, but lots of shops and restaurants in the mall at the city center, and lots of fairly cheap things to do. Foster's and XXXX breweries are here. River runs through the city, and there are several bridges and ferries. As I had hoped, adding some excitement filled the homesickness and boredom.
Wed. Nov. 6: Brisbane. We went to an outdoor market next to the river on Sunday. Had fun--I sat and tried Australian beers and listened to a live band while Kathey covered every square inch of shopping opportunities. Walked over the Storey Bridge and took a ferry to get to the market.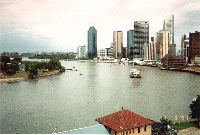 Monday we went to the museum and explored more of downtown. Tuesday we went to the "Australian Woolshed"--had lots of sheep, goats, a few koalas and 'roos, and a cow to milk. It was $8. Took a train (subway) to get there--$1.70 each way. The bus system is good here--we use it every day to go into the center of town for a dollar. The mall at the center is a huge outdoor thing that goes for a few blocks. Still finding new stores and stuff every time we go there. Also, yesterday (Tuesday) was Melbourne Cup Day. A 2 mile horse race in Melbourne, Victoria that the entire country stops to watch or listen to for about 3 1/2 minutes. In Victoria it's a state holiday, and even everywhere else it's the most important 3 1/2 minutes of the day. They had betting tables set up at the outdoor mall, and we each bet a dollar on two horses. I poured over all the statistics on each horse, noting their age, weight, winning history--and Kathey picked the ones that had the best names. Need I actually say whose horse won? We watched the race at a bar along with a lot of other people, all in a frenzy for the past 2 days, and of course, Kathey picked the winning horse. She won $5.25, so we made a $1.25 profit total! Got a Halloween card from my mom, a letter from B.J. (watching our dog Sidney back home), and a hysterical letter from Sidney himself. Also another letter from my grandfather, who is quite interested in our travels.
Sun. Nov. 10: Sydney. Thursday we didn't do much, except that we finally got the battery charger my mom sent to Christchurch. We had sent it to her from Paihia to get an exchange. It took 12 days to get to Christchurch, and 9 more to get forwarded to Brisbane. Fri. we flew to Sydney with Cathy W. (from London--met her Thu.) Decided to stay together at a hostel in Glebe, so we all 3 got a free pickup by the hostel. But the hostel was so run down we decided to find something better. Found a semi-acceptable room over a bar nearby and decided to check in for one night, leave our bags, and set out to find a decent place. Over the next few hours we used the buses, trains, ferries, and our feet to explore King's Cross on the S.E. side, and Cremorne Point N. of the harbor. Plus a lot of calls to other areas. King's Cross was like the book said: dirty, and every other shop a strip joint. Cremorne had one hostel, but rooms and bathrooms were pretty bad. So, after a few more miles walking, we made it back to the room in Glebe to spend the night listening to a heavy metal band 2 floors below which was vibrating the floor. The next morning (Sat.) Kathey and Cathy took a bus to the "Hereford YHA" in Glebe. Our last hope--sounded very nice even though we had been told in Brisbane that the Sydney YHA's were terrible. But it turned out to be the "flagship YHA for Australia", and it really is. We moved that morning. It's very nice here. The best hostel we've seen so far without a doubt! $14 (US$11) for 6-share, $16 for 4-share, with a bathroom for each room, great kitchen, pool, sauna, big TV room, cafe with cheap meals--like being in a luxury hotel! This place has a lot of the things I've thought I'd have if I ran a hostel. Spent the rest of Sat. going to Manly by ferry, seeing the beach there, seeing fantastic views of the harbor and a million sail boats, the bridge, and the Opera House. Walked up to the pylon on the bridge for a great view.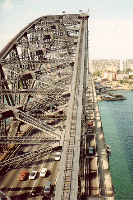 Sun. we explored the Opera House.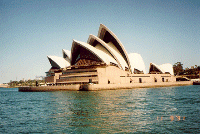 Sun. is the day to do that, with free music and people selling stuff, everywhere. Also explored Darling Harbour--great place--huge--with a giant shopping "mall", street performers (Sunday), live bands, parks, and a brewery/tavern.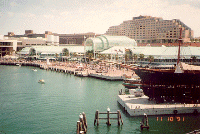 Spent all this time with Cathy--it's been fun with her, exploring and explaining to each other about England and the U.S. It's amazing how much pressure was lifted after we found a good place to stay--seem to be enjoying everything now.
Mon. Nov. 11: Sydney. Per and Ulrika arrive today from Nadi at 11 am.--something we've been looking forward to for a while now. Cathy's been in Aust. for 4 weeks, and is going home Tues. night. Called Warren who works for the same company I do, but here in Sydney--probably have dinner with him this week. As Cathy said, "Sydney's just really shabby when you get more than a mile from the water." But spectacular at the water. Too bad we have to stay so far from it. Buses and trains take up a lot of our spending money--not leaving a lot for touristy things. With a 10-stop bus pass, it costs about $2.70 to get to town and back. Trains and ferries are similar or more. Temperature is great here--highs in the 70s (20s C)--very spring-like, which is the season we're in, after all. My legs and feet seem to be either much stronger all of a sudden, or numb! Able to walk much farther lately--sometimes a few miles a day.
Wed. Nov. 13: Sydney. Met Per & Ulrika at the airport with no problems. We surprised them since they didn't get the letter we sent to Suva, Fiji (big surprise). They came back with us to the YHA, and after one night moved into the 4-bed room with us. Cathy went to Bondi ("Bahn-dye") beach--said it was small, but enjoyed watching the surfers. She left Tue. Monday we went to the Opera House again, and to the GPO. Got a letter from K's aunt Mary about a friend of hers in Sydney. Also the American Airlines certificate Michael (my brother) wants to use. I exchanged it for a ticket and will mail it to him tomorrow. Also got a letter from my grandfather. My mom says she still hasn't received the 6 rolls of film I sent from Christchurch, NZ 20 days ago. Called the GPO there and asked them to look into it. They sounded confident--we'll see. Monday was cold and windy, but no rain. This morning looks the same, so it'll be jeans instead of shorts today. Enjoying the rechargeable batteries--we have 2 sets, which should be minimum. They charge in 2 hours, but only last 2-3 hours. But they're free! Went to the "Earth Exchange" yesterday--interesting stuff about the earth--formation, recycling, precious stones, etc, but not worth $6.50. Got a knife sharpening stone yesterday--something we should have brought at the beginning. We use our Swiss Army knife a lot--usually in the hostel kitchens cutting meat, etc. Went back to the bridge yesterday and looked out from the top of the SE pylon.
Sat. Nov. 16: Sydney. Wed. we went to the Australian museum--one of the best I've ever seen! And free! Giant collection of Aust. stuff--great displays on Aust. animals, birds, etc. Also dinosaurs, art, hands-on stuff. Spent over an hour looking at a machine with steel balls rolling down tracks--incredibly imaginative--takes a half hour at least to trace all the paths and see how they work. Took lots of pix and got a map of it, which I wrote lots of notes on--maybe I'll build one some day. They say there's one even more complex in Canberra ("CAN-brah") at the Science and Technology Building. K. and Ulrika went to the aquarium and enjoyed it (US$10 with $2.50 YHA discount) while Per and I went to the Pumphouse Brewery & Tavern, which we also enjoyed. Also went out with Warren and another Swedish couple, Robert and Åsa ("OH-sah") that Per & Ulrika met in Nadi, Fiji after we left. We were walking down one of the main streets of downtown and Per happened to see Robert and Åsa across the street--amazing! All 7 of us went to a local pub and drank entirely too much "Cooper's Ale"--all had a great time and a terrible hangover this morning. Today Warren came by and took K and I to his office (Sat.)--we called back to my office in Dallas and talked to Sheryl, Kevin, Steve, and Chuck--also sent them a fax postcard. It was really nice to talk to them--it's been a long time since we've seen our friends back home. Then he took us driving through scenery and to his house on the water--very pretty. We all have colds (in addition to the hangovers), so didn't feel like doing much--had fun playing cards and Battleship, listening to music and talking and laughing. They're teaching me Swedish words and phrases--played Battleship on paper in Swedish. Rained today--60 degrees F (15 degrees C). First rain since NZ.
Mon. Nov. 18: Katoomba, Aust. Sunday Per, Ulrika, and I went to Darling Harbour--K wasn't feeling well so she stayed at the hostel. Saw several musicians and entertainers--lots of people on Sundays. Got adventurous and the four of us made tacos for dinner. Used pita bread for soft tacos, and had corn and avocados along with the normal stuff (Swedish style). This morning we rented a used station wagon and drove to Katoomba.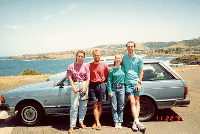 Per and I drove today--a really strange experience for both of us (driving on the left, sitting on the right). K and Ulrika will drive tomorrow. Feels like learning to drive all over again. Feels like you're going too fast and the car is driving. Katoomba is in the Blue Mountains. Staying at the YHA here--$13 each for a room for the 4 of us. Very nice hostel. Car costs $40/day (US$31) with 200 Km/day, for 5 days. It's an automatic with no A/C, but otherwise good. Drove 5 mins. from the hostel to "Echo Point" to see the "Three Sisters" rock formation--but we went at night! We read that they had flood lights on it. We were standing at the railing for a while, looking at the formation and letting our eyes adjust to the darkness, when suddenly we realized that on the other side of the railing was the highest, sheerest dropoff we'd ever seen. We were standing at the edge of a wall that must have been at least several hundred feet high!! After almost passing out, we looked all the way to the bottom and could just see the tops of huge pine trees. We could barely make out the other side of the canyon a couple miles away. Like the Grand Canyon but with straight walls on some of the sides. And we had no idea it was there. We thought it was just a big park. Wish we could spend the whole year with our friends--we're having so much fun together--feels like we've known each other all our lives--but it's only been a total of 2 weeks.
Sat. Nov. 23: Sydney. Wed. we all had a turn driving as we made the 5 hour trip to Canberra. Had fun watching each new driver go through all the strangeness of being on the "wrong" side, and counting the number of times they signalled a turn with the windshield wipers. Stayed at the nice YHA and went to the New Parliament House, which was impressive. Thurs. we tried to go to the maze and the water jet, but both were closed. Spent the afternoon at the Nat. Science & Tech. Centre. Hands-on science stuff--like in Brisbane, but much bigger--saw the "ball machine" like in Sydney. This was much more complex, and impossible to map. Drove to Nowra on the coast. Last hour was a roller coaster ride up and down the mountains on a winding road...with almost no gas! But we made it ok, and stayed at the small YHA. Fri. we drove up the coast, back to Sydney. Had fun stopping at beaches and a blowhole in Kiama,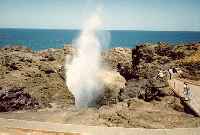 and locking the keys in the car--well, not so fun, but turned out ok. Used a coat hanger to get in. Came back to the same, very nice, YHA in Sydney. We were all tired from the trip. Today (Sat.) we went to the GPO (letter from my mom) and to drop off the car. Per is semi-sick with K's cold so he didn't go. All still tired so this is a relaxing day, enjoying being with familiar people at a familiar and comfortable place--a rarity! Drove through downtown Sydney--I feel like an expert at left-side driving. Oops! left out Tuesday! Our second day in Katoomba. Took a four hour walk from Three Sisters through beautiful mountains. Saw fantastic views over the valley with the steep cliffs.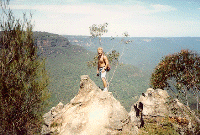 Saw several small waterfalls. Ended the hike with a 20 min. climb up the "Giant Stairway". One thousand of the steepest, tallest steps I've ever seen, back to the top of the valley to the lookout for 3 Sisters. Absolute torture! And we all loved being able to say we did it! We're now back to being pedestrians, as we have no car--it was a fun few days not having to think about transportation. Thinking about Melbourne now, and whether P. & U. will join us or say goodbye until we meet again in Singapore or Bangkok. Also thinking about Christmas presents for people back home, and Thanksgiving, which is this Thursday. Would love to take a day out of traveling to be home for that. But overall, spirits are high, probably because we've been so busy. A note about rental car insurance. They say the car is covered in the daily price but liability ins. is covered except for the first $500, which you have to pay--even if it's not your fault! We were able to lower it to $100 by paying $6 per day more. Used rental cars are the way to go!
Fri. Nov. 29: Melbourne. Mon. we decided to break some of the boring moments by buying a few games--getting tired of trying to remember every card game I've ever known! Got dice and score pads for Yahtzee--also magnetic pocket versions of Scrabble and Monopoly (with British properties). So far they've all 3 been a big hit. Tues. Per & I went to get my shorts fixed and to investigate sleeping bags for K & I--Christmas presents from my parents. Thurs. was Thanksgiving back home so we bought roast chicken with stuffing, cranberry sauce, potatoes (to mash), gravy, and an apple pie for desert! Added a Swedish touch by having the famous "vanilla sauce" on the pie. Very nice meal! We were missing seeing all our relatives back home, so this was a nice substitute. Today is Fri., and we're in Melbourne. Per & Ulrika did come with us, by bus. (Only $35 one way). They've changed their ticket to fly from Sydney to Singapore Dec. 24th, so we're trying to do the same. Already planning Christmas together, then will probably travel together by land up to Bangkok, where we will eventually fly out from. Don't know about Indonesia yet. P & U left on a bus this morning, for a 14 hour bus ride, and we spent the morning getting here by air. Got checked in at a hostel, and headed for the GPO. Hit the jackpot--8 letters, including a cassette tape of Austin radio from Michael, a postcard from Cathy W. who is back home in London now, letters from my grandfather, my mom, K's mom, and John S. from work. Also an unexpected postcard from Ren?e (Kevin's wife) who is on business in Stockholm temporarily. (It was great telling P. & U. that we got something from Sweden!) We're staying at the new Queensberry Hill YHA--opened this past June. Best hostel of the trip--better than Sydney! Everything is new--beds, furniture, building, kitchen equipment (2 microwaves and 6 toasters). Really nice! $17 for 4-share, or $15 for 8-share. We're paying 5 nights and getting a 4-share for $15.30. Enjoying the tape from Michael. Melbourne is not as spectacular as Sydney, but very nice, and easier to get around then Sydney. Doesn't feel as much like downtown of a big city. They use trams which add atmosphere but are more expensive than the buses were. So we're going to try to walk into town for a while.