April
Sun. Apr. 12: Naxos. Well, I feel like it's been weeks since I wrote. So much has happened. Usually there's some time every few days when there's nothing to do--which is when I usually write. But the last couple of weeks have been so busy. Since I didn't even finish the last entry, I'll start there. Got more and more excited the closer it came to meeting Michael and Jeff. Met them at the airport Friday morning at 4 am. Took the bus back, and sat up 'til 8 talking and looking through the stuff they brought. It was just like Christmas. New underwear, new shoes, pictures from some of the film we've sent home, and the short-wave radio John M. tried to mail to us way back in Hong Kong. But later that day we hit a snag. They started re-varnishing the rooms, and the fumes were so strong we had to move. So we went back to the Thisseos Inn and got a bright pink room with four beds for 1500 Drs. (US$8) each. Spent Sat. and Sun. exploring Athens. Sat. we went to the Acropolis. Truly impressive. It's so strange to walk over rocks that used to be walls and columns back in the 5th century BC. The Parthenon is huge--much bigger than I thought. You get a great view looking out over Athens.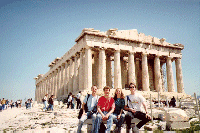 Lots of people drawing things. There are several things to see--not just the Parthenon. The Erectheum is the smaller building, and there are two "Theaters" at the base of the hill.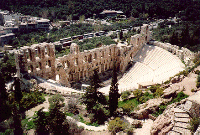 Michael had studied all of it for so long that he could hardly believe he was standing in front of it. He was a great tour guide, telling us all about all the things. The only drawback was that it cost 1500 Drs. to get in. Sun. we started the day by finding out that the Acropolis is free on Sundays! Something that seemed to be common knowledge among the locals, but wasn't mentioned in our books or even the tourist info we got when we arrived. Saw lots of things, including the University, where they were filming a movie outside. Ate at To Gerani's a couple more times and had a great time drinking wine and ouzo, and learning the Greek word for "cheers", which is:

--pronounced "Yah Mahsh". When the Greeks at the next table discovered that we could read the Greek letters and wanted to know the word for cheers, they had to practice ouzo shots with us (several times). And then the waitress found out, and she brought us more free ouzo, etc., etc. The streets were just a little bit more confusing as the 4 of us laughed and staggered our way back to the hostel that afternoon. :-) Mon. was our work day, trying to get tickets to Santorini, re-arrange all of our flights, and get money. Jeff bought a ticket to Naples, Italy to see his friend. We were finally able to change Michael's flight so he could stay a few extra days, but it took calling American Airlines in Dallas to do it. Since his ticket was an award from my frequent flier miles, it couldn't be changed by the people in Athens. We decided to cheat and fly to Santorini instead of doing the 12 hour boat ride. Then we could hop islands coming back, and have only a 6 hour boat ride for our last segment into Athens. So we got those tickets too. After running back and forth between airline offices, banks, travel agencies, and the overseas telephone office, we were pretty exhausted. But K. and I still had to arrange our Africa tickets. We had already found out that going to S. Africa wasn't going to be possible because of the cost, so our plan was to fly round-trip from Athens to Nairobi, with a stop-over in Cairo. But we had forgotten to check to see how long the visas were going to take, and of course the embassies were already closed. We were flying to Santorini the next day, so we needed to arrange it all that day. But we didn't know when to set the departure date from Athens. So we looked in some books and asked more questions (more walking) and decided to make a reservation. By this point we weren't sure about anything and were pretty frustrated. Then K. noticed in the book that now is the worst time of year to go because of the heavy rains, which bring lots of mosquitoes, which bring lots of malaria. We finally decided that we probably should delay Africa 'til after Europe, even though it's more risky because we might not have the money for it by then. But at this point in the trip you start realizing how little money you have, and how many places there are left to see. And you don't want to give up anything. Anyway, over the next few days we tried to finally map out a real plan for how to do Europe. Our original plan was to see as many places as we could in three months, hoping to hit every country. The "three months" came from our plan to buy a 3 month Eurail pass for $1,042 each. But, the price went up twice since last summer, and is now $1,263 each. And our money is not holding out quite as we'd planned (mostly because of Australia), so now we're looking at about 2 months in addition to what we've seen already. So what do you see in Europe in 2 months? If you spend 3 days in each city (including getting there from the previous city), you can see about 20 cities in 60 days. So which 20? We could either try to see about one city in every country, or we could skip a couple of countries and spend more time in others that we're more interested in. We chose the 2nd plan. Since we've already seen (some of) Greece, England, Wales, and Scotland, we can cross off those from our list. So we did a lot of reading and tried to figure out which cities were the "must sees" and which ones to skip. Another snag is that N. Ireland and almost all of Eastern Europe are not on the Eurail pass. And we don't know yet if the pass will actually be cheaper than buying individual tickets. And we're going to try to go to Moscow and St. Petersburg (which was called Leningrad just before we left home) using Dan and Trish's contacts from their trip. That will take some extra planning and coordinating also. Also, we're hearing bad things about going to Spain and Portugal right now. They're supposed to be great places, but there are three major things going on right now. The Olympics, the World's Fair, and the 500th anniversary of Columbus discovering America. We've been hearing reports from other travelers of hotel prices being tripled, and of not being able to find a place to stay. With that, and the fact that the two countries require a lot of travel time just to get to them and back, we've decided to postpone them for another trip. The end of this story is that we changed our flights so we could fly back to London on the 18th of April with Michael, and start our real Europe tour from there. (Another problem was that none of the countries bordering Greece were on the Eurail pass.) So here's our current plan--I'll write it down so we can see how well it goes and how much it changes. (Also because it's so rare that we actually have a firm plan for 2 full months.) Starting in London on the 22nd of April and ending back there on the 19th of June: Dublin, Belfast, Dublin, London, Paris, some city in Switzerland--not sure yet, Rome, Venice, Vienna, Salzburg, Munich, Berlin, Krakow, Warsaw, Moscow, St. Petersburg, Eskilstuna and Stockholm, Malmö and Copenhagen, (visiting P, U, R, and Å) Amsterdam, Brussels, and London. Then fly to Cairo, Nairobi, London, and finally Dallas! That would put us at home on July 6th, which would be just under 10 months. We had originally guessed at 10-12, depending on the money. Back to Greece. Tues. we flew to Santorini. The weather was cold and wet, but we made it with no delays. We're finding out that we're here just before the real tourist season, so finding a room is no problem even though the book gives constant warnings about places being full. One of the hotel touts took us to the "Petros Hotel". Got 2 doubles for 1500 (US$8) per person--with bath, and hot water any time--and a refrigerator--and it's close to the square at the center of town. We kept waiting for something to go wrong--but it didn't. There are lots of places in the same area--east of the square, down the hill, jog to the left, then down the hill again. That's basically how everything is described when giving directions. There aren't any street signs, and the "streets" wind all around. Since the town is built on the side of a hill, most of the streets aren't really even streets, but just walkways about 10 ft. wide with lots of shops and restaurants.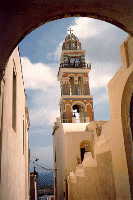 Almost everything that isn't moving is painted white, and usually with blue trim. You could get rich here just selling blue and white paint. The cheap food in Greece is Gyros or Souvlaki--roast lamb or pork in pita bread. Usually about 170 Drs. I could easily live the rest of my life eating nothing but a couple of those, with a 1/2 litre beer (Amstel is the beer here--really good), and our favorite dessert, a bougatsa:

(a delicious pastry filled with vanilla cream, powdered sugar, and cinnamon). Costs a total of about $3.50 for the whole meal! We usually do something like that for lunch, then go to a normal restaurant for dinner, which usually costs about $5-6 each. Sat. we explored Santorini's town, "Thira", and saw some incredible views from the west side, with steep cliffs that drop down to the deepest color blue water I've ever seen.
[ Note: the best bougatsas in all of Greece are in Athens, at a tiny little place at Stadiou 39, about 3/4ths of the way down the hallway, on the left. Have a gyros at the little place across the hall, and a bougatsa for dessert, and tell me about it :-) ]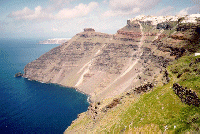 The white buildings are beautiful. Lots of paint brushes in use--the whole country seems to be repainted (white of course) every Spring, just before the tourist rush in the summer. They say in July and August the islands are packed with people. Actually, I think we're just a little bit early because some days it's a little cold (too cold for the beach every day), and a lot of places aren't open yet. Probably the best time would be the beginning to middle of May. Took the bus to Parissa beach--about a half hour. The black sand (from volcanic rock) is interesting. The water is too cold to swim, but we had fun anyway. Sun. we took a 30 min. bus to the other (north) end to a small town called Oia ("Ee-yah"). The whole place was basically being either renovated, repainted, or expanded with new buildings. But the views are even more incredible--especially the very northern tip that looks down from a huge cliff over blue water and all the white buildings along the side of the hills. Lots more narrow walkways lined with white walls and shops, all winding around like a huge maze. Everything is so clean and pretty. The bus ride had great views too. You look down over terraced green fields dotted with a few stark white buildings and maybe a white church with the blue domed roof and the white cross on top. All of this looking out over the pure blue water that goes to the horizon. Beautiful!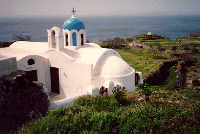 Jeff flew back early Friday morning, headed for Naples. "Roosters" is the popular Western and Greek restaurant. Great food, good prices, and a funny owner that calls everyone "baby". On our first day we were greeted with, "Welcome to Santorini babies!"--with a hilarious slow Greek accent. Bought my mom's Christmas present here--some really pretty Batik-style pillow covers with Greek scenery, and a bracelet. Phone calls are a problem on the islands. Lots of phones to call if you don't mind paying them for it, but if you want to make a collect or credit card call you have to go to the OTE, which is only open in the mornings--now anyway. Sat. we took the ferry to Ios ("EE-ohs"). 900 Drs. and 1 1/2 hours. It's a huge car ferry so it's fairly smooth. Comfortable seats on the inside and bench seats on the upper outside decks. Got to Ios expecting a mob of touts but found an empty dock. But the info center booked us a room and we got a free ride up the hill into town. Another great room--1500 (US$8) each--new furniture, spotlessly clean, and hot water. Walked to the beach and had more incredible views along the way.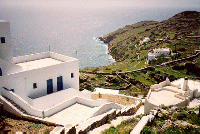 Had almost the whole beach to ourselves. They say it's a human carpet in the summer. Ios is the party island. The whole town changes at night. All the beach people show up after dark to fill the tons of bars and discos.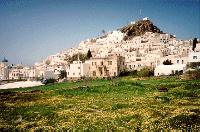 Decided to move on today (Sun.) and came here to Naxos--1 1/2 hour ferry--but 1500 Drs. this time--not sure why so much more (900 last time). Naxos is much bigger, and there's lots more to do. The town is all along the water right next to the dock, so you can usually walk to a hotel. Got another good room for only 1200 each. The 3 of us are having fun exploring and eating incredibly delicious food. I'm beginning to think there's no Greek food that's not delicious. Even wine and beer are cheap. The Greek salads are great, and all meals come with bread. Ouzo is the most popular liquor, and very cheap. Kind of the tequila of Greece. Tastes like licorice. You mix it with water and it turns cloudy. Very strong--40%. Lots of good local wines too. Finally got caught up--whew! Time for bed--goodnight!
Thurs. Apr. 16: Naxos. Since Monday the weather has been getting better each day. But it's still only in the 60s (15-20 C) during the day, and cold enough for a coat most nights. Most of it is the wind, which is always blowing, on all the islands. The buses aren't running yet (since it's not high season yet) so exploring the island is a little difficult--which is unfortunate because there seems to be a lot more things to see here. But we've walked around the town a lot. It's great just to walk out onto the rocks and watch the sun go down.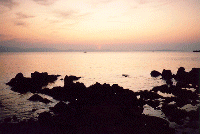 A couple of things I've been meaning to mention... First--this is the first country we've been to since we began where they drive on the right. The Pacific, all of Asia, and Great Britain all drive on the left. Riding on a bus feels really strange because it seems like we should be in the left lane. Almost as strange as when we first started riding on the left. I may have already mentioned... In London all the crosswalks are painted with "LOOK LEFT" or "LOOK RIGHT" for all the tourists. We're so confused now that we look every direction before crossing. Another thing is hot water. It's got to be the world's biggest problem--I'm convinced. In Asia you just don't have it anywhere, except maybe if you pay a lot for a nice hotel. Everywhere else, it's a guessing game. "Will I have hot water today? And if I do, will it last until I get the soap rinsed off?" I can't remember the last time I had a really long hot shower and didn't have to conserve it for the next person. At the hostel in London you had to either get up very early or wait 'til the afternoon. In Athens the hot water heater was only turned on for certain hours, and even then you were never sure--that was at Festos. At Thisseos it was much better because they have the "instant" heater that the water passes through instead of being heated in a big tank. On the island, they use solar panels, which is fine on sunny days, but even then it's cold in the mornings. Different subject... Michael brought an extra bag so he can take back a lot of stuff we don't need anymore. Things like letters from people back home and some things we've bought along the way. We filled a medium sized bag with all our stuff. It was so much that we've now stopped using the large outside pockets on our packs, and probably reduced the weight by about 10 pounds each. At the heaviest point, K's pack with the day pack weighed somewhere around 35 lbs., and mine was around 45. They really were becoming a problem. But I remember how heavy Per's pack was--it made mine feel light! He had stuff like scuba fins, a video camera, a 35mm camera, an underwater camera, and a huge underwater video housing. I don't know how he had room for his clothes! We used to laugh when the guys in Thailand were unloading the boats... They'd do the other five of ours first with no problem, and then get to Per's and it looked like it must have been bolted to the bottom it was so heavy! New subject--after asking about 30 sewing places to sew on the patches we've been collecting from each country, we finally got someone to do them for us here in Naxos. We had the first 6 done in Thailand, and had 5 more done here. Still haven't bought the Greece patch yet, and we never found one in India.
Sat. Apr. 18: On the plane from Athens to London. Thurs. night we took a night ferry from Naxos to Athens. The seven hours turned out to be a lot easier than I thought. The boat was huge and pretty comfortable, with reclining seats. Didn't sleep very well, but not too bad. Ferries for Athens go in and out from Pireaus ("Py-RAY-us"), which is about a half hour away by the subway. The subway goes between suburbs but isn't used for local trips inside Athens. Eventually made it back to Festos hostel in Athens by early morning. Went to the GPO and got a few things. We got a box of Easter candy from my mom, and a letter from my friend Mich in Florida. K. got 3 letters from Pam. Michael went to the Acropolis to take a few more pictures, but it was closed, "Until 4 o'clock due to a strike." Went to the Pnyx (Pronounced "Pnyx"--ha ha) near the Acropolis to see the "Sound and Light Show". Definitely not worth the 800 Drs. they were charging. Actually we got student tickets for 400--lots of student discounts in Europe, but you usually have to show an ID. After Michael showed his college ID to the guy taking money, we sort of just said, "Yeah, we're students too. But uh, we lost our IDs." He just laughed and gave us the cheaper tickets anyway. Ended Fri. evening with a late dinner at "To Gerani's". Always good--be sure to have red wine (served in a carafe--or a 2-litre plastic bottle when they're busy), Greek salad (with Feta cheese), and flaming sausages. What a great place! Also walked around the Nat. Gardens. Today we checked out and left our bags with the hostel. Went to the GPO and Michael got a letter from my mom. I went back to the hostel while M. and K. went walking and shopping. I'm really looking forward to doing Europe--all the cities sound great. Just hope we have the money to see them all. We'll know more after we do more checking on prices in London. Traveling in Europe seems so easy now after Asia. It's been a lot of fun with Michael and Jeff. Their view of things is so different than ours sometimes--but it's refreshing. We sometimes take for granted things that are so new to them. They seem impressed by how we handle things like dealing with airlines or trying to figure out how to get set up or get around in a new city. Those things are our life now--instead of fighting traffic going to work, we fight with taxi drivers and haggle over the price of a hotel room. And surprises are part of everyday life. When I think of how often we have to figure out things like how to use the buses, or how to find a place to stay after we arrive in a new country, normal life seems so mundane. I wonder if I'll miss the constant challenges of just "living" after we get home. Some of the simplest things seem so foreign now--like having a hotel reservation before you arrive in a country, or having someone waiting for you when you get off a plane, or being familiar with the streets of a city (which is always our indicator that it's time to move on to the next city.)
Thurs. Apr. 23: Dublin. Arrived in London Sat. and checked in to the Palace Hotel again--our new home. This is the 5th time we've come into London since India. Michael and I got up early Sun. and I got him to Victoria station so he could take the Gatwick Express train to catch his flight home. Didn't do much Sunday. Mon. and Tues. were work days--first we researched Eurail Passes vs. buying individual tickets. After asking several travel agencies, tourist offices, and even the Eurail Aid (French Railways) office, we finally found prices for major cities in a book. We calculated that for the cities we're doing, it's slightly cheaper doing the Eurail Pass. We've read that they're much more convenient, and that you should use them even if the price of a pass is a little more. I'm getting a Flex Pass--15 days travel out of 2 months--for £366 (US$670) and K.'s getting the youth (under 26) version of the same for £252 (US$461). It was looking like we were going to have to go from Belfast back to Dublin and back to London, and then cross the channel to get to Paris. But then we found out that ferries from Ireland to France are free with the Eurail pass, whereas cross channel ferries from England are not. But the ferries from Ireland to France are either 17 or 21 hours! But, then we realized we could use some American Airlines miles and fly for free from Belfast to Paris. Plus we got a return flight from Paris to London for after we finish Europe. So we got those tickets too. Also we checked on a bus from London to Dublin. And we checked on Africa tickets again. We're worried about Africa right now because we're not sure when or where we'll have the time to get tickets and visas since we'll be hopping around so much. Wed. we got all the tickets and passes, and got on a bus to Dublin at 7:30 that evening. Rode 'til 2:30 am, then got on a ferry. Rode the ferry from 4:00 'til 7:30 this morning, then rode the bus into the city and got to the station by 8. Trip cost £30 ea. All cross-country buses from London are called "coaches", not buses, and leave from the Victoria Coach Station, down the street from the tube/bus/train complex.
Ireland exchange rate:
US$1.00 = Irish £0.61, Irish £1.00 = US$1.64
It was a long night, but we slept quite a bit, and caught up after we got to the YHA here in Dublin. It's a good, well equipped hostel--and it doesn't even have a lockout during the day, which has recently become my biggest annoyance from YHA's. Beds are £7--only problem is there are no mixed dorms, so we're on separate floors again. First impression of Dublin is that it's similar to places we've been in the UK. Grafton St. is an interesting pedestrian mall with lots of shops and musicians.
Also the Guinness brewery is here--the "largest stout brewery in the world." We've (I've) already set aside time for that. The Irish accent is much easier for me to understand than the Scottish accent was. Prices are cheaper than London, which is good because London was killing our budget. We're excited about finally starting Europe. Since Northern Ireland's not on Eurail, we're going to pay for the bus from Dublin to Belfast, so our passes officially start the 2 months May 1st, just in time to leave Paris. In the U.S. everyone says you have to buy Eurail passes before getting to Europe. But it's really just a big scam because you can get them for the same (equivalent) price from any Eurail office, including London's office at the French Railways office on Piccadilly St. You just have to prove you're not European and that you've been in Europe less than 6 months. Same price, no extra charges, no penalties, no hassles. The only difference is that you have to start using it within 1 month instead of 6 like when you buy it in the States. Thomas Cook sells good maps and a huge timetable. Also, the book "Europe by Train" is really good--it gives a lot of info about train travel in Europe that isn't in the guide books like "Let's Go". The book with the prices for individual train tickets is the "Eurail Guide".
Mon. Apr. 27: Belfast. Fri. we saw a couple of cathedrals and went to the Guinness brewery. Not actually a tour--more like a bunch of displays and a film, followed by a couple of pints of the delicious black stuff. It was much smoother and easier to drink than any Guinness I've had at home. The head was so thick it was like whipped cream on top. Really good!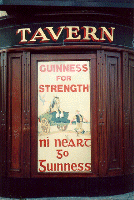 Sat. we walked around more and had a (sort of) picnic. Bought food at the grocery store and went to the park near Grafton St. Really nice park with lots of flowers and ponds. Finally found Ireland patches at the Clerry's dept. store in the sewing dept. (not the souvenir shops, which I thought was strange.) Sun. we took a bus to Belfast. Three hours and £9.50. Buses are ok, but no food or toilets. Arrived about 4:30 and took a local bus to the YHA (the only hostel in Belfast). Have to take a bus into town each day, but otherwise good. Good kitchen and great hot showers. Today (Mon.) we went into town and explored. (Forgot to mention--saw lots of beautiful scenery from the bus. Bright green fields and lots of sheep--almost as pretty as New Zealand.)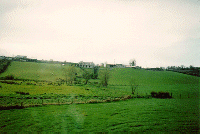 I get the feeling the violence here is fairly isolated and surely not as often as the media makes it seem. But there are a lot of reminders that there must be problems here. At the border there was an armed soldier stopping cars, and a couple of "Security Check" signs had bullet holes in them--big enough to put your fist through! In the center of the city there are security gates where they inspect cars, including the engine. When we went into the mall our daypacks were searched. But the most unnerving thing is the soldiers walking the sidewalks (alone or sometimes in pairs) wearing full camouflaged riot gear and holding huge machine guns. Also there are special camouflaged armored trucks cruising the streets with 2 soldiers standing up through a hole in the roof, with machine guns pointing towards the sidewalks. The worst part is that they don't look bored--they're alert and the guns are at waist level (not over the shoulder), and their hands are very close to the trigger. But the people seem oblivious to it all, and life here seems to be pretty normal. There isn't a whole lot to do tourist-wise though. But there's enough for a couple of days, and it's good to actually see a place I've heard so much about in the news.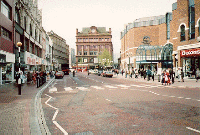 Tues. Apr. 28: Belfast. Went into town again today. Security seemed even tighter today. Saw a couple our age (Irish I think) get stopped by 4 armed cops (with bullet-proof vests, of course) outside a store. They were asking for ID and checking their bags. Took the bus to the Botanic Gardens and the Ulster Museum next door--both free. Museum was good, gardens were ok. The best part was the bus ride. It's a long story, but we ended up sitting on an empty bus with the driver while he gave us a history lesson on N. Ireland. He explained all the things we were confused about, like exactly why the IRA was setting off bombs. He spoke really fast and had a heavy accent, so we only caught about every other word, but I'll try to summarize what I think it's all about. England controlled all of Ireland up until about 1916. The lower 3/4 of Ireland was mostly Catholic and the upper 1/4 mostly Protestant. There was an uprising around Easter of 1916 with a lot of violence. The outcome was that N. Ireland was created (still under British rule) and the Republic of Ireland became a separate country. Around 1969 the (few) Catholics in N. Ireland started a civil rights movement because they couldn't get jobs or land. A lot of them were being killed, so the IRA (Irish Rep. Army) was started to protect them. [ I've since been corrected on this... The IRA was started in 1916. ] Today the IRA says they're for both religions, and their main goal is to reunite all of Ireland and break free from England. The driver said that less than 1/4 of the Catholics today actually agree with what the IRA is doing, which is terrorizing the English govt. by attacking industry and trying to hurt them financially. But there are also other groups now that oppose the IRA. The driver said that a lady he worked with at church (Catholic) was shot and killed this morning by a group that would no-doubt claim that she was working with the IRA, which he said was complete nonsense. So now there are bomb threats daily (sometimes several) in Belfast and London and tube stations in London are evacuated several times a day due to phone threats or abandoned bags. There are signs in the trains and other public places warning people not to leave their bags and telling what to do if you see one. Airports and train stations have especially tight security, with announcements about leaving bags unattended. The longer we stay here the spookier it gets, and we're feeling more and more nervous about how much of a war zone this place is. That conversation with the bus driver was invaluable--it's what traveling's all about. I would have paid for the opportunity.